Our Airbus Journey provides the framework for our future ahead. It outlines where we are coming from, where we want to go, and how we are planning to get there – it is the pathway to our future.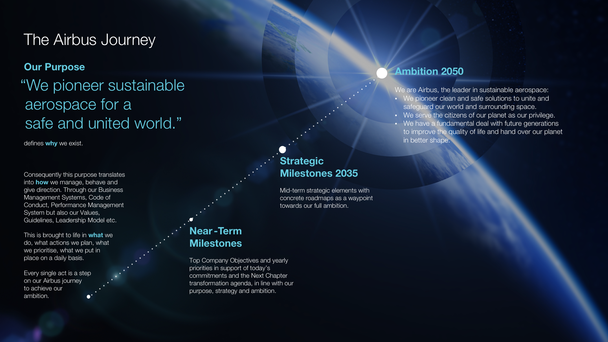 Airbus Journey elements

Our Purpose is what we live and act by – our reason to exist. It is based on our belief and shapes our behaviour and our brand personality. "We pioneer sustainable aerospace for a safe and united world"
It is defining:
Why: Our Purpose determines why we exist
How we act, behave and what's important to us
What we plan and focus on and enact everyday throughout the company
Our belief defines how we look at our world today and determines what we want to see in the future.
"We believe we need to sustain a better world for the generations to come"
Our ambition is what we have always on our mind. It is the ultimate goal we are striving towards.
"To achieve a sustainably united and safe world"

All that cumulates in our purpose statement: "We pioneer sustainable aerospace for a safe and united world"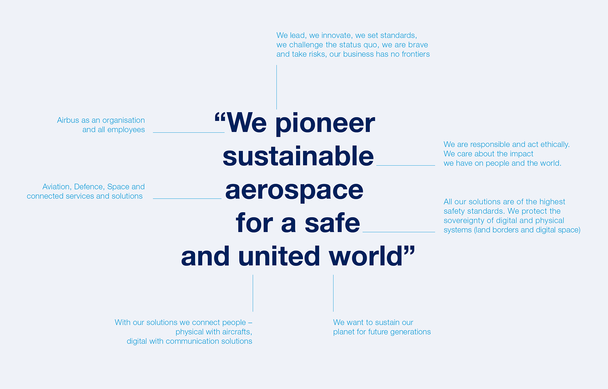 Help us to bring our purpose and ambition to everything we do
We would like to encourage you to demonstrate your commitment to the Airbus Journey – your collective commitment as a team and your individual commitment in this great company. Start the Journey now – even the smallest step towards our ambition will lead to a great movement that will shape our future.
Practical tips: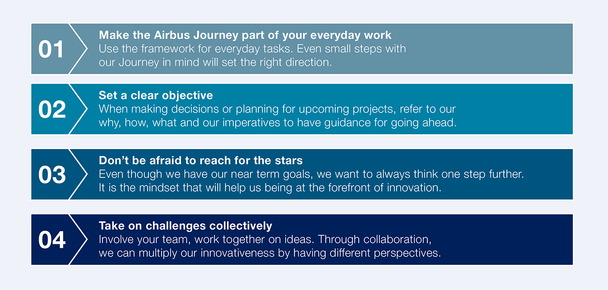 Messaging

When we develop messages about our Journey, we want to engage and inspire our audiences.
In order to achieve that, there are a few guiding communication principles:
We want to make it relevant to our audiences
We use examples that are relevant to our audience and show what it means to them and their work, to demonstrate how the Journey relates to everyone.
We want to show that it's happening
We show practical examples where possible to demonstrate that the Airbus Journey is not filled with empty words but meaningful principles that we are putting into reality.
We want to make it personal
We use examples, anecdotes and stories that describe where we personally connect with the Airbus Journey, what it means to us and where we are brining it to life through our everyday work.
We want to make it human
We take our stories to a deeper level where we can engage emotionally with our audiences.
We talk about how we feel, what inspires us and how the Airbus Journey makes our work meaningful.


How we communicate: Key messages

Our purpose is reflected through three imperatives which create practical reference points we use for our way of communicating. These are: Care and Act Responsibly, Unite and Collaborate, Influence and Pioneer.
Below you find examples for messages that illustrate how we bring our imperatives, and therefore our Purpose, to life.
Exemplary messages:
Care and Act Responsibly
We feel responsible for a better good / We always look for sustainable solutions / We safeguard what really matters / We realise mankind's potential within our world / We find smart solutions for long-term gain
Unite and Collaborate
We unite people around the world / We embrace diversity / We bring the best minds together to explore new possibilities / We are working smarter together to make important things happen / We are harnessing the potential in our connected world
Influence and Pioneer
We explore new possibilities beyond our fields / We innovate and set standards / We apply our collective expertise, scale and influence / We pioneer solutions that make a positive difference / We make bold decisions that drive worthwhile change
Quoting the Airbus Journey
All elements of the Airbus Journey (Belief, Purpose, Ambition) can be quoted in communications. If quoted directly, the exact words should not be changed. E.g. "Our Purpose is 'We pioneer sustainable aerospace for a safe and united world'". However, if the broad content of the Airbus Journey is communicated, different words may be used as long as they don't change the overall meaning, e.g. "The new Airbus Purpose reflects our interest in sustainable solutions"
Communication Tone of Voice
In general, when creating communication for internal and external audiences, our Airbus Tone of Voice is of course still the guidance for how the brand is talking to audiences.
Design concept "Focus"

Central idea and story
Our Purpose helps us to focus on what we want to achieve. The graphical design element refers to an optical lens through which we look at things, it sharpens our perception to show what really matters to us. It visually translates how our Purpose helps us to see clearly.
Creating the Focus visual
The Focus visual consists of three concentric circles with specific proportions to each other:
There are two different, but very simple principles for the correct sizing and placement of the Focus visual. Please see all pictures below for regular (DIN formats or common screen formats) and slim formats (i.e. for Roll-Ups or online banners).
Combining the Focus visual with imagery
The idea of the Focus concept only comes to life when the Focus visual (the circles) gets filled with approriate imagery. Please use images that are either completely calm or show a mainly calm image area. Keep in mind that the picture needs to show a particular and interesting part to be focused by the three circles. And, especially for people shots, it's recommended to consider images that show natural depth of field effects.
The Focus visual only gets visible when the image shows slightly different shifts or zooms inside the three circles. Additionally, everything inside the circles has to appear sharp, as if it's focused through a camera's lens. The surrounding image area that covers the format's background has to be significantly blurred. This also ensures proper legibility of all text elements. Please see both pictures of the following slideshow to see how to do and not to do this.
Applications
You can download several templates and ready-to-use motifs at the end of this section to create your own compelling communication about the Airbus Journey. The images below show different exemplary layouts.