Introduction

Promotional products can be a unique way to raise awareness or create a connection with our brand, especially as a tangible leave-behind in an increasingly digital world. But in order to be effective, an item must be useful to the recipient and illicit a positive reaction, which ensures the user keeps the item and recalls the original message.
 
Plan ahead and think of quality
Frequently distributed items, or those with a limited duration of usefulness, such as pens, may not make a lasting impression on recipients. Low-quality items reflect poorly on our brand as a whole, unwanted items waste budget and can end up in landfills, contradicting Airbus's commitment to sustainability.

Promotional items are not just a nice to have, they should be partof a larger, thoughtfully planned campaign to promote an objective.
 
Follow our brand standards and keep it simple
You cannot alter brand standards for any reason. This includes adjusting clear space because an imprint area is too small or avoiding added costs with more imprint areas. Items selected should have an imprint area/s large enough to maintain full legibility and meet Airbus brand standards.
Keep the message clear and concise. Limiting the information on your item to a logo and a short call to action, a product name, an illustration or a URL, will more effectively communicate with your audience.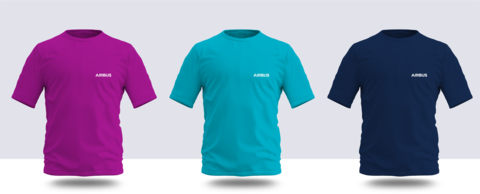 Logo application

As our main intention is to build up a relationship with the our brand, the Airbus logo is mandatory on each promotional item. We apply the Airbus logo in one of the three defined colours, with enough clear space and above the minimum size.
 
Colours

You are free to use the colours of the Airbus main and highlight colour palette for backgrounds and markings. Limit your choice to one single highlight colour per item.
 
Typeface

Helvetica Neue is the typeface of choice for any item marking. You can use the styles from Ultra light to Black, but don't combine more than two styles or use any Italic styles. If a product designation logo exists it may be used, but do not create any new logos.