Purpose and goals
A showroom is an interactive, experiential area to display the company's messages, capabilities and products in a clear, attractive way.
Showrooms have a variety of purposes:
to inspire stakeholders
to communicate the Airbus DNA and brand values
to engage, inspire and surprise
to showcase the Airbus story
to provide opportunities for face-to-face audience interaction
to demonstrate our capabilities and product portfolio through user-driven experience
to show the bond between the local area, the company and its employees
Showrooms require a substantial investment and continuous maintenance and support. Therefore, please make sure to meet all basic requirements serving your specific business demands.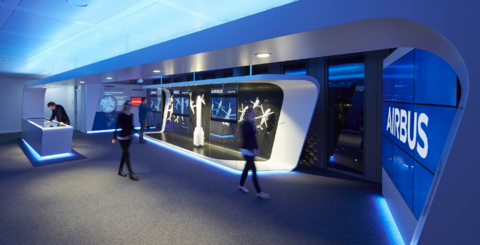 The connection to the Airbus brand will be enhanced by immersion, interaction and engagement. While it is a must that the experience shall be memorable, the story must also be strong.
Development steps:
embed Airbus messages
identify and incorporate local messages
Compulsory topics:
company history and heritage
overview of Airbus products and capabilities (beyond the site itself)
innovation (in both content and used media)
Look and feel
The Airbus showrooms must:
be in line with the Airbus brand
make use of high quality materials and provide a consistent feeling
make predominantly use of black and white in combination with the Airbus colours
display a dynamic architecture and design relying on flowing shapes
Use logos sparingly as visitors are already in an Airbus environment. However, one large logo should be on display (if necessary by means of projection or on a screen) in a location suitable for taking pictures of VIP-visitors.