Corporate livery

Above the corporate livery developed for the Airbus test aircraft fleet, the design principle is carefully adapted to each aircraft family.
For scale model production or painting of actual aircraft, please contact the Corporate Identity Design department for detailed drawings.
The Airbus livery as well as Airbus, its logo, A300, A310, A318, A319, A320, A321, A330, A340, A350, A380, A400M are registered trademarks.
The Airbus livery graphic design data and other Airbus-trademarked graphic design data should not be handed out to third parties without the prior written trademark license agreement of the Airbus communication department.
 
Special neo liveries

Below the special livery developed for the Airbus A320neo and A330neo test aircraft fleet.
The A330neo has a dedicated colour scheme.
 
Aircraft type designations

The aircraft type designations on Airbus liveries are designed in the style of the Airbus logo typeface. They are the only graphics beside the Airbus logo using this typeface.
Besides on the aircraft they can be used in graphics and publications, but should not be integrated in body text or titles.
For additional aircraft type designations, please contact the Corporate Identity department.
 
Application on customer aircraft

It is Airbus branding strategy to propose the Airbus logo and corresponding aircraft type designation to each customer as part of their aircraft livery. Nevertheless, its adoption is the customer's choice.
The base proposal should consist of the full version, combining the Airbus logo and type designation. If the customer does not accept the full version, a shorter version can be proposed.
Alternatively, by customer request, the combination of the word "AIRBUS" and the type designation (A220, A320, A350 ...) can be applied in a different typeface to reflect customer's branding - In this case the Airbus logo and type designation logo is not to be applied.

Standard position & size:
Standard position, if not requested otherwise by the customer, is below the windows and aligned to the last rear passenger window.
Size of the marking and distance to the windows are as illustrated.

Colours:
Colour choice is determined by the colours of the customer livery to avoid extra paint cycles and increase customer acceptance. If the customer has no specific request but does not wish to use its livery colours, the Airbus blue 07 (pantone 281C) is to be applied.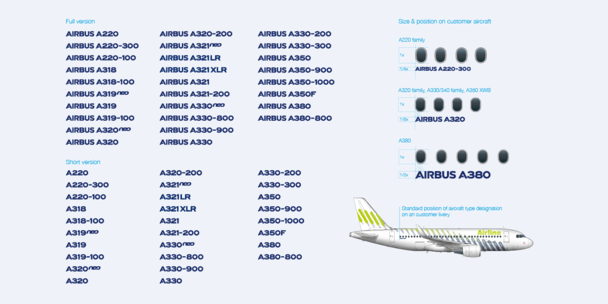 Special customer liveries

Occasionally our customers ask to use Airbus logo and type designation logos to be displayed in big size as part of a special livery.
We should always propose to use the Airbus branding assets first (Airbus logo and type designation logo), alternatively the customer can display the word AIRBUS and the type designation in his own typeface reflecting his branding.
To avoid:
A mix of Airbus branding assets and customer brand style – i.e. Airbus logo and type designation in customer branding style
A mix of Airbus brand colours and customer colours. The application has to be either fully in Airbus brand colours or fully in the customer airline colours