Introduction

What Airbus UTM does
The worldwide traffic volume is constantly increasing, especially in urban areas. So, there's a clear need for solutions that are complementary to existing ground transport.
Airbus UTM (Unmanned Traffic Management) develops the infrastructure that will give order and structure to our skies. This includes the definition of safe and secure aerial corridors, integrated vertipods and automated parcel stations into existing infrastructures as well as establishing an overall operation management and a communication system.
Airbus UTM aims to make our airspace safe, scalable and globally relevant.
Relationship between the Airbus brand and Airbus UTM
Airbus UTM exists within the Airbus brand's visual ecosystem. It belongs to Airbus' Urban Mobility sector, therefore it may not use its own descriptor. Airbus UTM should only be referred to in a written manner, e.g. in headlines, sub-headlines or body text.
As the acronym UTM (for Unmanned Traffic Management) is well-known within the business, it's not mandatory to write out the term.
 
Visual concept "Enabling environments"
The central idea of the key visual concept builds on Airbus Urban Mobility's brand belief: 
a world of personal freedom of mobility in air.

In this context, Unmanned Traffic Management is the solution-provider for on-demand mobility and seamless personal commuting.
To demonstrate the freedom of flight we establish "Air paths" as a graphical element that complements various surroundings. These lines show how different aircrafts could navigate in all kinds of environments in a metaphorical, yet plausible and elaborated way.
The distinctive Headline "Airbus UTM: Defining future skies" is a clear message that empowers the visual idea.
Imagery

The images represent a variety of environments where Unmanned Traffic Management is operated: urban and suburban spaces as well as agricultural surroundings. These are shot top-down from a straight 90° angle, respecting the altitude of the relevant aircraft. The images use natural colour and light.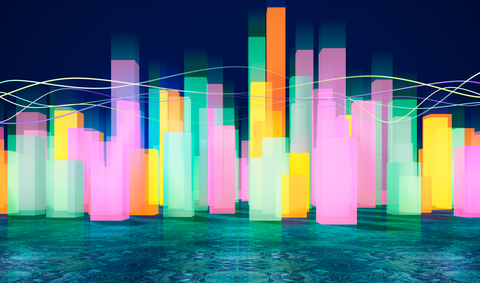 Avoid abstract or unnatural visualisations of any kind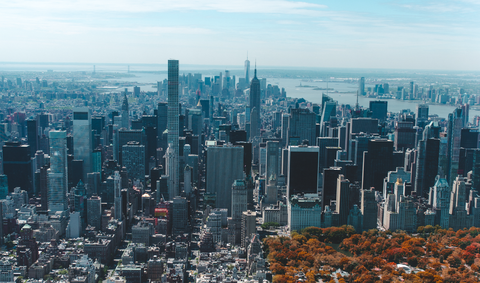 Avoid using shallow perspectives of less than 90 degrees, perpendicular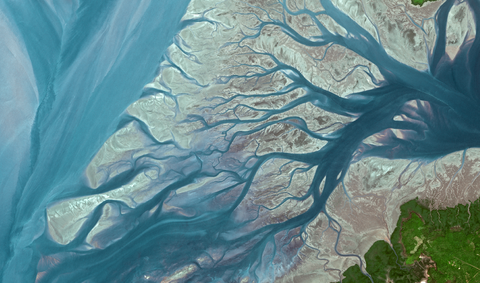 Don't use images from a high altitude (e.g. shot from satellites or planes)
Secondary design element "Air paths"

The Air paths are graphical elements that illustrate the flight routes of the relevant aircraft: three different styles of lines move differently across the format, according to the flight behaviour of the specific vehicle.
How to apply to imagery
Only use Air path lines that are relevant to the shown environment, e.g. no agricultural drone lines on an urban landscape.
The dot with the outline stands for starting or landing points. At least one has to be visible within the format.
All strokes have to look equal in weight.
The lines and starting / landing points may only appear in white or Airbus blue.
Where it makes sense, the lines may "fly around" obstaces (appear behind them)

Don'ts
Make sure the lines look organised: Don't use too many of them and choose logical routes.
Be careful not to overlay the Air path lines on or near the Airbus brand Key line. Also, ensure the Air path lines to do impair legibility of words.
Applications

As the Air paths can be applied to different layouts, they can be easily adapted for different formats.